Majestouch Convertible 2 [Brown switch/US ASCII]

Model Number : FKBC104M/EB2
Product Name : Majestouch Convertible 2 [Brown switch/US ASCII]
JAN Code : 4515213011256
Brand : Majestouch Convertible 2
Status : Available now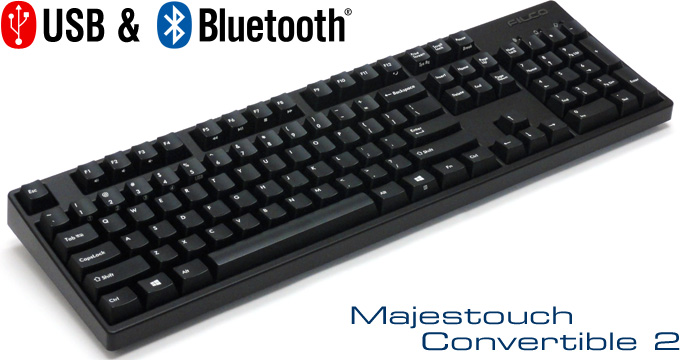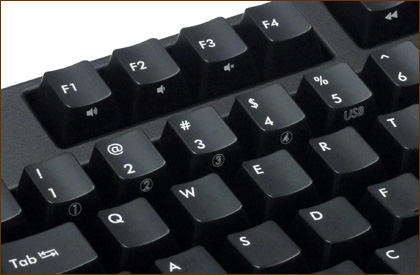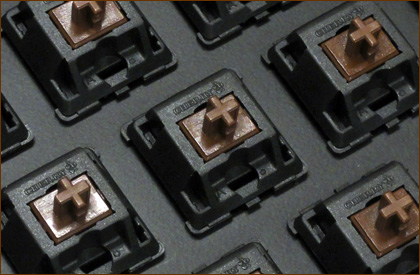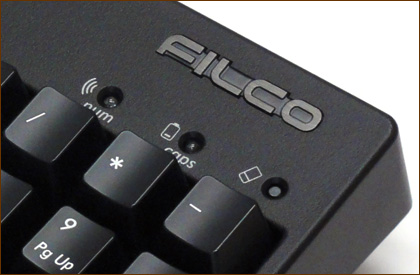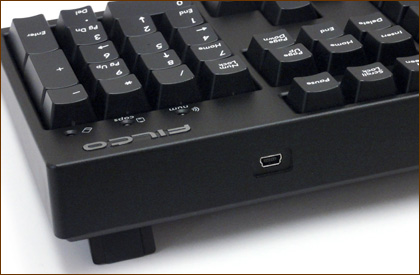 ---
Point 1 : 2way keyboard : USB wired connection and Bluetooth wireless connection.

---
Point 2 : It can be used approximately for 6 months with batteries. Power saving mode is equipped.
Battery life : Approximately 6 months when used for 5 hours per day.
(Battery life will differ based on usage conditions and environmental factors)
Under Bluetooth connection, it will automatically enter power saving mode to save electrical consumption if there is no activity for more than 30 minutes.
---
Point 3 : Maximum of four personal computers or devices may be connected and toggled randomly.

Majestouch Convertible 2 can be used not only for personal computers but your smartphone or tablet.
You can toggle instantly by pressing any of the 1~4 [Bluetooth device registration / toggle keys] keys.
---
Point 4 : You can change the Function of the key for your preference.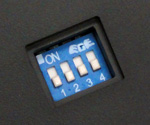 | | |
| --- | --- |
| SW1 | Windows key and Applications (App) key, are locked and cannot be used. |
| SW2 | Changes CapsLock key and left Ctrl key. |
| SW3 | Changes Esc key and [` ~] keys |
| SW4 | Changes Fn key *Changes two keys simultaneously |
You may chage or stop the use of the key codes by using the DIP switch located at the base of the keyboard.
---
Platform Support
PC : When installing with a wired connection, please use a DOS/V personal computer that has a USB port.
OS : Windows XP Service Pack 2 or higher version, Windows Vista, Windows 7, Windows 8, Windows 8.1

Majestouch Convertible 2 User Manual PDF (72 pages/9.2MB)



If using Bluetooth connection, the personal computer must be equipped with Bluetooth function or have a Bluetooth adapter. Nevertheless, due to toggling, there might be situations whereby it is unable to connect. Therefore, not all Bluetooth adapters are supported.
* When installing Bluetooth connection, please ensure to use the mouse for operations. When installing with a wireless connection, please use a DOS/V personal computer that has a Bluetooth HID Profile.
---
Specification
Key switch / Number of keys

Cherry MX Brown Switch (tactile feel)/104 keys
Key arrangement
US ASCII
FN & Ctrl keys located on the left side of arrow keys are in different positions from other Majestouch 2 series.
Key pitch / Key stroke
19mm / 4 ±0.5mm
Dimensions / Weight
W440 x D138 x H38.5mm (49.5mm raised up by stand) / 1.2kg
Interface
USB / Bluetooth (Bluetooth ver3.0 Class2 HID profile)
Accessories
USB cable, AA batteries, FILCO key puller, Key caps for replacement, User Manual
Notices
All our FILCO Keyboard have already passed the CE, FCC and RoHS certification.
Bluetooth adapter is not included in this product, please prepare separately.

---
We may change our product specification or design without a notice.
We're sorry, but at this time we can not accept an online order from foreign country.